Low volatility and high on-chain losses for Bitcoin, but overall UTXOs in loss still have a way to go to match previous market bottoms.
Bitcoin BTC $20,624 sellers may not have capitulated enough, but current trends are "typical" of the end of bear markets.
According to data from on-chain analytics firm Glassnode, seller behavior suggests that a macro price bottom is forming.
Analyst: Seller exhaustion is "near" bear market lows
In the latest hint that Bitcoin's latest bear market is nearing its end, Glassnode has revealed that the network is currently weathering a "perfect storm" of low volatility and high on-chain losses.
The Seller Exhaustion Constant, calculated from one-month rolling volatility and on-chain transaction profitability, is thus at long-term lows of its own.
As a Twitter post explains, such lows are rare, having only appeared seven times before. Six of those times, upside volatility resulted, implying that Bitcoin could soon put an end to its bearish trend.
"The Bitcoin seller exhaustion constant has recorded the lowest value since November 2018," Glassnode commented.
In a subsequent discussion, lead on-chain analyst Checkmate described the data as "typical" of bear markets, adding that such levels occur "near the lows."
The Seller Exhaustion Constant was originally created by ARK Invest and David Puell, who's responsible for the popular Puell Multiple indicator.
"The seller exhaustion constant shown below is the percentage of bitcoin total circulating supply in profit multiplied by its volatility over the last 30 days," ARK analyst Yassine Elmandjra explained in an article last year.
"This metric measures whether the two factors align. Specifically, the combination of low volatility and high losses is associated with capitulation, complacency, and a bottoming out of the bitcoin price."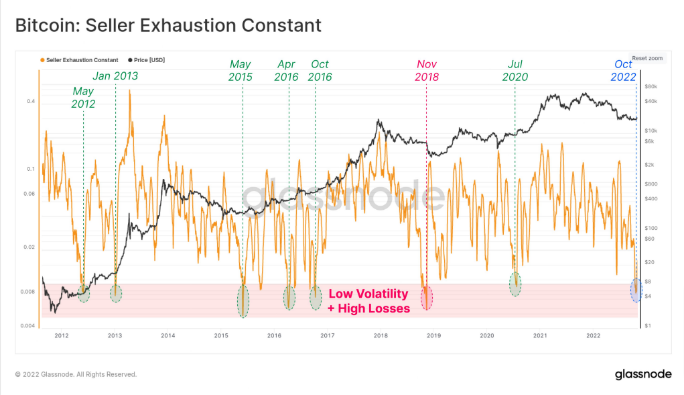 Bitcoin Seller Exhaustion Constant annotated chart. Source: Glassnode/Twitter