While U.S. the most dominant player in crypto, a state-wise analysis reveals that not all 50 states are equally prepared for the inevitable mainstream crypto adoption.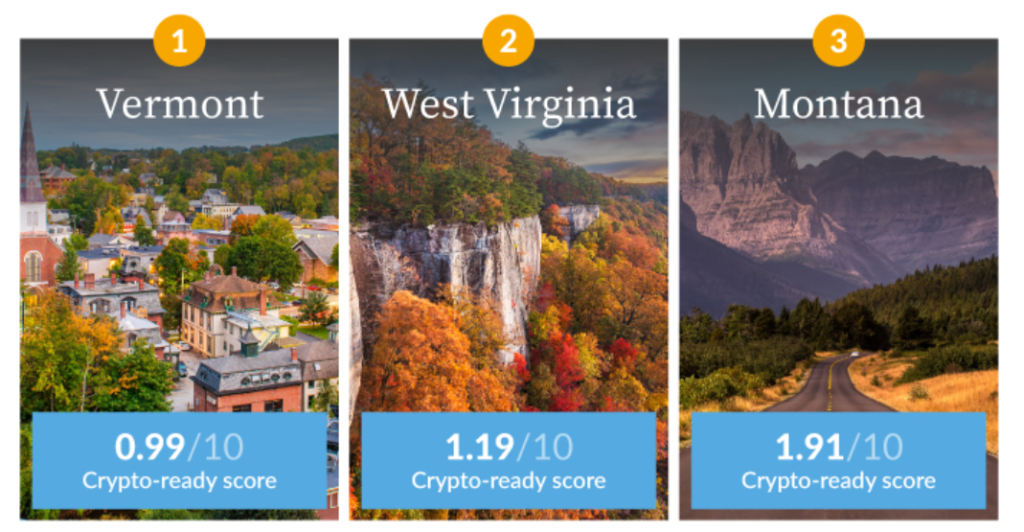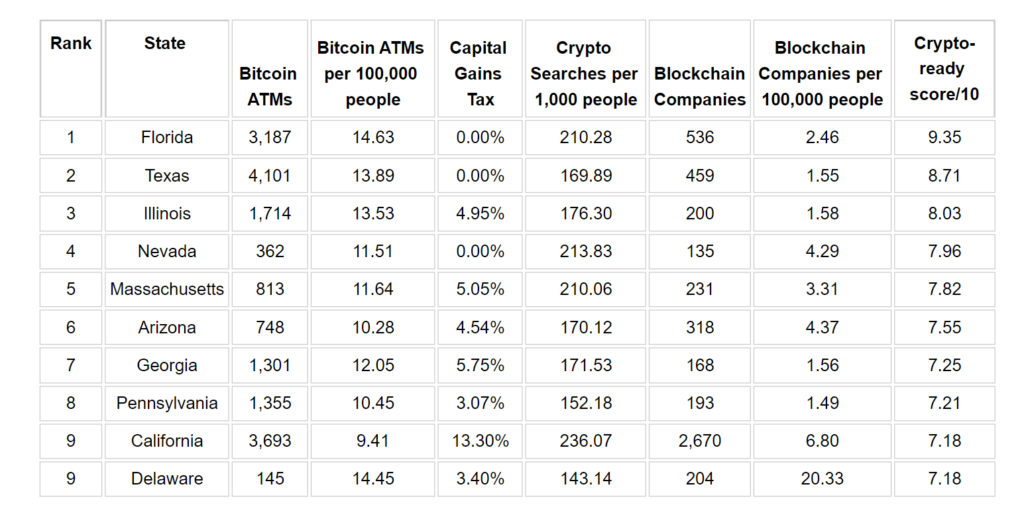 It's not just pro-crypto regulations but also a supporting infrastructure that allows sustainable crypto adoption in any jurisdiction. Weighing in factors such as the number of Bitcoin ATMs, blockchain companies and public interest in cryptocurrencies, Florida comes out as the most crypto-ready state in the United States.
The U.S. hosts a network of 33,865 Bitcoin ATMs, representing 87.1% of total crypto ATM installations worldwide. In addition, the nation contributes to 37.8% of the global Bitcoin hash rate, which makes the US the most dominant player in crypto. However, a state-wise analysis reveals that not all 50 states are equally prepared for the inevitable mainstream crypto adoption.
Research conducted by Invezz regarded Florida as the crypto capital of the US for its active engagement with the burgeoning crypto economy. Miami has one of the highest numbers of Bitcoin ATMs per person, with 14.63 per 100,000 people and one of the highest rates of public interest in crypto, with 210.28 Google searches for crypto topics per 1,000 people.
While Florida received the highest crypto-ready score of 9.35, Texas and Illinois were placed right below with scores of 8.71 and 8.03, respectively, as shown below.
Surprisingly, Vermont is the only U.S. state with no Bitcoin ATMs. On the other hand, Texas makes up for it by hosting 4,101 ATMs, the largest state-wise crypto ATM network. Crypto-friendly jurisdictions such as Wyoming have the most blockchain companies per 100,000 people at over 20, while California has the most overall with 2,670
For investors, the future of crypto adoption will also depend on the leniency of state taxes. Currently, nine states in the US are offering 0% capital tax gains to investors, which include Washington, Wyoming, South Dakota, New Hampshire, Alaska, Nevada, Texas, Tennessee and Florida.

The Office of the Comptroller of the Currency (OCC) warned banks of the "emerging risks" in crypto while asking the sector to take a "cautious approach" when dealing with crypto companies.

While discussing risk management, the OCC said practices at crypto firms were "not yet robust," highlighting the crypto ecosystem's unpreparedness during several collapses over the past year.

Disclaimer: Don't forget to check this article regularly to be notified about the most recent announcements from the event. All timestamps are in the UTC time zone, and updates are in reverse order (the latest update is placed at the top).